The average American spends 5 hours a day on their smartphone. If you're going to be using your phone that much every day, why not make a few bucks off of it?
From survey sites, to cashback shopping, to microjob apps – there are many great ways to make money with your smartphone. In fact, we've found over 100!
Explore the following list of money making apps for inspiration on how you could start earning extra money today.
Money Making Apps that Pay You to Shop in Stores with Cashback
1.

GetUpside
: Get paid to fill up with gas using this receipt scanning app
Sign up bonus:

Receive an extra $0.20 off per gallon the first time you fill up.

Referral bonus:

Receive an extra $0.20 off per gallon for one fill up.
This new money saving app will give you up to $0.20 cash back for every gallon of gas that you buy from participating gas stations – plus an $0.20 per gallon for your first purchase. Simply use the app to select the gas station you plan to fill up at, then take a picture of the receipt after making your purchase.
Although Get Upside focuses on a few states right now, they do have national gas stations like Shell available on the app and they are quickly expanding – so it's likely that you'll be able to use the app in the near future, if not now. If you live in DC, you can also save money on groceries, car washes, and restaurants.
2.

Ibotta
: Buy groceries for your family, get rewarded for it with this app that pays you to shop
Sign up bonus:

$5

Referral bonus:

$5
This money making app pays you to shop. Simply make your normal purchases, then scan receipts and barcodes in the app to prove you bought the product, and get rewarded with cash. It's as simple as shopping for groceries for your family, spending a few minutes scanning as you put things away at home, and getting cash back.
Some purchases require a specific brand or variety of product to get cash back, other offers allow you to purchase any brand of a product (for example, apples) and be rewarded. The amount you get back can range from a few cents to a few dollars per product, and bonuses are offered regularly.
You are able to redeem the money you earn with with this receipt scanning app by way of PayPal, Venmo, or by purchasing a gift card.
3.

Dosh App
: Swipe your card to pay, earn free money
Sign up bonus: $5
Referral bonus: $5
We are so used to swiping a debit or credit card to spend money, but what if swiping your card meant EARNING money? With Dosh, it can! This free money app pays you to spend money like normal. When looking for apps that pay you to shop, look no farther than Dosh. Simply connect your credit and debit cards to their secure app, make your daily purchases, and be rewarded with cash back from certain companies. Cash back percentages vary by company, but any apps that pay you money for simply spending like normal are worth it.
4.

Checkout51
: Earn cash back with this app for scanning receipts
This receipt scanning app allows you to upload a photo of your receipt after shopping for your family's groceries and household supplies, then pays you money!
New offers are listed every Thursday and you have until Wednesday night to shop, upload your receipt, and get cash back for items you purchase that match the week's offers. Match your grocery list to the offers before shopping, then select which offers you're claiming when you upload your receipt.
This app for scanning grocery receipts is a great way to earn a little cash back for buying things your family already uses.
5.

ShopKick
: Earn free gift cards for walking into your favorite stores
ShopKick is a unique app that offers several ways to earn rewards points (called kicks) that can be redeemed for free gift cards. A huge benefit of ShopKick is that you don't have to actually buy anything to earn rewards!
You can earn kicks by simply walking into certain stores (a great excuse to head to the mall for window shopping!), scanning the barcodes on specific products in-store, making purchases with a linked card in specific partner retailers, and shopping online through the ShopKick app.
This is one of the most unique apps that pay you to shop because you don't have to buy anything. It's hard to beat being rewarded for getting your steps in window shopping at your favorite stores!
6.

SavingStar
: Get cash back on your family's grocery purchases
Do you ever buy groceries? If so, SavingStar is one of the apps that pay you to shop by scanning receipts that you need to download!
Simply choose the stores you shop at, enter the information from your store loyalty cards, chose the offers that match up with your grocery list, then go shopping! Some stores will automatically work with your loyalty card to track offers redeemed, for other stores you'll use the app to scan receipts. Earnings can be transferred to a bank or PayPal account, or turned into gift cards!
7.

Paribus
: This app finds out if stores owe you money, then gets it back in your pocket
There's few things more annoying than making a purchase then seeing it later for a lower price. With Paribus, this situation could turn into a refund instead of an annoyance!
Connect the email inbox you use when shopping online and Paribus monitors your purchases. If a store offers an item you've bought for a lower price after the fact, and it falls within that store's price adjustment policies, Paribus will do the work for you and get that price difference back in your pocket.
The best part of this money saving app (other than getting money back) is that it's effortless for you!
8.

Fetch Rewards
: Turn your grocery shopping trip into free gift cards
This receipt scanning app is unique in that it doesn't care where you do your grocery shopping. Simply take a picture of any grocery receipt and Fetch will look for items you purchased from partnering companies and give you rewards points for those purchases. As your points from scanning receipts add up, you can redeem them for free gift cards.
9.

BerryCart
: Save on healthy foods with this receipt scanning app that pays you to shop
BerryCart is all about rewarding you for purchasing healthy foods. On this receipt scanning app, you'll see rewards for gluten-free, organic, non-GMO foods. Select the items you plan to purchase on your shopping trip, spend a few seconds learning something new, then submit a picture of your receipt to get rewarded for your healthy purchases.
BerryCart rewards can be redeemed as cash or gift cards. This is one of the best apps for scanning receipts for health conscious families.
10.

Receipt Hog
: Have a bit of fun with this app for scanning receipts
Receipt Hog's app combines receipt scanning with fun ways to earn rewards. Each receipt you scan will earn you either coins, which are collected to be redeemed for either cash or gift cards, or spins on the "Hog Slots" where you will have a chance to earn even more coins.
Receipts aren't limited to just grocery stores, either. Different types of stores, like apparel or home improvement, are able to be scanned. This is definitely a unique receipt scanning app, but it's kind of fun as well.
11.

Drop
: Connect your debit or credit card and automatically earn points
Link whatever credit or debit cards you use to your Drop account and earn points when you make purchases with those cards. This free app will track purchases made with your linked cards and you'll earn points that can be redeemed for gift cards.
Money Making Apps that Pay You to Shop Online with Cashback
Cashback online shopping has become very popular over the last few years. Thanks to websites that split their affiliate commissions with you, it's possible to get cashback for shopping that you do every day – just by starting your shopping experience through one of these apps or websites.
Earn cashback when you shop at popular stores like Walmart, Amazon, Groupon, and thousands others by using the websites below:
1.

TopCashback
: Earn cash back when you shop online
Looking for a way to get cash back for shopping? With TopCashback, simply shop online like you normally would through TopCashback's website and be rewarded with cash back for online shopping.
TopCashback's mobile money saving app gives you the chance to use coupons in store as well. There are also coupon codes available, in-store and online, that can be used for even more savings.
2.

Ebates
: Get cash back for shopping online
Need to buy something online? Do it through Ebates and earn cash back for online shopping. With the Ebates app, you are able to access in-store coupons and compare prices of products as well.
If you're going to make an online purchase, it's worth your while to do it through Ebates. Every little bit of cash back adds up, and if you're a regular online shopper this is a great way to earn cash back simply for shopping.
3.

BeFrugal
: Combine coupons and cash back to save money shopping online
BeFrugal is always on the lookout for a good deal for you. Do your online shopping through BeFrugal and have access to coupon codes which can be stacked with cash back offers. You also have access to in-store coupons which can be used to save you money as well.
4.

Mr. Rebates
: Earn cash back when you shop online through this app
Mr. Rebates is a cash back online shopping app that allows you to earn cash back when you shop through them at a variety of different companies. Simply search for the store you plan to shop at on your Mr. Rebates app, click on that store, make your purchase, and within a few days Mr. Rebates will reward you with cash back!
Paid Survey Money Making Apps
The following paid survey apps will provide you with compensation for sharing your opinion on a wide range of topics. Many people are able to earn an extra $100-500+ per month using the websites and survey apps listed here.
Your opinion matters to companies who are attempting to develop products that consumers will buy and use. By signing up for Pinecone Research, you get the opportunity to get paid for your opinion!
Earn points for each survey you take, then redeem those points for cash or other rewards. Surveys will be sent to the email address you provide. When you receive an email that a survey is available, take the survey to get paid. You may also be asked to occasionally test an actual product in your home and provide feedback for cash as well.
2.

ShopTracker
: This money making app pays you for your shopping data
The purpose of the ShopTracker app is to get a better idea of how consumers use their mobile devices or computers to shop, specifically on Amazon. After joining ShopTracker, you will be asked to share your Amazon purchase history and answer a few questions about purchases. The longer you keep ShopTracker connected, the more money you'll earn.
3.

Harris Poll Online
: Get rewarded for sharing your opinion with this survey app
Sign up for this app to be rewarded for taking surveys on a wide range of consumer to political topics and more. You'll earn points for every survey you complete and those points can be redeemed for gift cards or other rewards. Note that Harris Poll Online does not offer a cash option as a reward.
4.

Toluna
: Get rewarded for your opinion with this survey app that pays you to share it
Toluna rewards users for sharing their opinions with cash, gift cards, and other prizes. You are providing insight to real companies about real ideas and products. This paid survey app gives you the opportunity to directly influence companies that make products you may use daily.
5.

YouGov
: Earn money for taking surveys on current event and lifestyle topics
YouGov is focused more on surveying you for your opinions on a wider variety of topics than just about products. You can find yourself taking surveys about politics, current events, lifestyle topics, as well as consumer topics.
You'll earn points for taking surveys and sharing your opinion with YouGov. These points can be redeemed for gift cards or cash. Additionally, your opinions on various topics might be part of statistics featured on the news! The paid survey app is certainly a great way for people who enjoy sharing their opinions on the world to earn a little extra cash.
6.

PointClub
: Take surveys, make money with this app
PointClub is another paid survey app that will reward you in cash or gift cards for providing insight, opinions, and feedback. PointClub claims to always be coming up with additional new ways for you to earn points that can be redeemed for rewards.
One thing of note is that the app is currently only available on Android devices. Other device users are able to participate in PointClub through their online browser.
7.

Surveys on the Go
: Get paid for taking surveys on this app
Surveys on the Go is a free survey app that allows you to take surveys about a variety of different topics. After downloading the app, starting an account, and taking a few demographic surveys, you'll start getting notifications on your device when you have a survey available to take. Take the survey and get paid for sharing your opinion, then cash out earnings via PayPal.
Get Paid to Complete Small Tasks with these Money Making Apps
These money making apps will provide you with cash for completing small task. From reading emails, to trying free offers, to watching videos, you have many options.
Although most of these websites won't earn you more than a few bucks an hour – if you have nothing to do or need a few extra dollars, they're definitely worth exploring!
1.

Swagbucks
: Earn free gift cards for completing small tasks
Use the Swagbucks app to be rewarded with free gift cards for completing small tasks such as watching short videos, taking surveys, making purchases online (you earn "cash" back which is actually points called SB towards a gift card), simply browsing the internet, and even playing games.
If you spend time online every day, there's a good chance you could be earning Swagbucks rewards in exchange for your time.
2.

Inbox Dollars
: Get paid cash for various online activities
With Inbox Dollars, you are able to earn cash rewards for completing surveys, trying out online games, saving money with coupons, checking your email, surfing the web, and making online purchases. Inbox Dollars offers a wide variety of ways to earn cash rewards of varying amounts.
3.

Smart Panel
: Get paid for installing an app
Smart Panel is one of the absolutely easiest apps that pay you money. Simply download the app, answer a few questions, then keep the Smart Panel app installed on your device, allowing it to collect specific data, then get paid monthly.
Smart Panel is collecting data on how you use your device and reporting it to the companies whose services and features you access on your device. In addition to getting paid for having the app on your phone and allowing it to collect data, Smart Panel also pays loyalty bonuses. This money making app is an easy way to make an extra $100 or so a year.
The Nielsen App is an easy way to make some extra cash very passively. You'll answer a few questions for them, download their app, and allow them to track your internet usage and behaviors. In turn, they'll pay you up to $50 per year as well as gaining entries into their sweepstakes.
5.

Adme
: This app pays you every time you unlock your Android phone
Sign up bonus: $1
Referral bonus: $0.50
Have an Android device (sorry, Apple users but hopefully an iOS version is coming soon)? Unlock it multiple times a day? You can get paid for unlocking your Android device with Adme. This app pays cash rewards for viewing an ad every time you unlock your device.
6.

Job Spotter
: Turn help wanted ads into rewards
This app will reward you for taking and submitting pictures of "help wanted" signs in your community. See a help wanted sign posted, take a picture and submit it in the app, and every approved submission will reward you with points that can be redeemed for gift cards.
7.

AppMan
: This app pays you to download other apps
Earn money with AppMan by downloading free apps to your device. That's it. Really.
Downloading apps and games will earn you credits, and those credits can then be redeemed for gift cards. Who knows, you might even get paid to find your new favorite way to kill time!
8.

App Trailers
: Get paid to watch trailers for new apps
Watch preview trailers of hot, new apps and be rewarded for it with points. Those points can then be redeemed for a variety of gift cards. If you enjoy learning about new things, or are always on the prowl for a great new app, this is a perfect way to earn a little extra.
9.

Field Agent
: Complete small tasks in your area for cash
Field Agent undercover agents are asked to go into stores in their area and complete small tasks such as taking a photo of a display, reporting how much an item costs, or complete surveys about a store you're asked to visit. You'll be paid in cash for completing jobs.
10.

EasyShift
: Earn money with simple, quick tasks at local stores
Download the EasyShift app, create a profile, and be asked to complete simple, quick tasks in your city. You might be asked to photograph a certain product or display, check up on how much something costs at a certain store, or share your opinion on a promotion. Accepting a task is called reserving a shift and you might be asked to complete it at either a specific location or anywhere.
11.

Mobee
: Complete mystery missions with this money making app
Mobee give shoppers the opportunity to pick different missions to complete at various stores in their area. Download the app, check out what missions are available for you to choose from in your area, accept the mission, complete it, then earn points that can be redeemed for gift cards.
12.

Rewardable
: This money making app pays you for completing tasks
Rewardable offers different tasks to be completed for payment. Some tasks can be completed virtually via the app on your device, others involve going into a store. Virtual tasks could include watching videos, taking surveys, and more.
13.

MooCash
: Get paid for installing apps or games
MooCash is an app that will reward you with rewards that can be redeemed for cash for doing various small tasks. You might be asked to install an app, play a game, watch a video, or open a page with an offer on it. You'll then be be able to earn cash rewards for completing these tasks.
14.

Streetbees
: Complete tasks, get paid with this money making app
Streetbees pays you for sharing your opinion and doing small tasks for them. You might be asked to take a picture or short video, or share your thoughts on your internet provider. You'll be rewarded for tasks and can cash out via PayPal.
15.

appKarma
: Get paid for completing offers with this money making app
appKarma will pay you in cash or gift cards to complete a variety of task offers such as installing and playing with a new app or waching a video. You can also earn extra rewards for continuing to use some special "Karma Plays" apps downloaded for tasks on a daily basis.
Money Making Apps to Manage Your Side Hustles
What's the best side hustle to make money? The side hustle idea you enjoy the most.
In all reality, there are millions of people around the world who have been able to turn a profitable side hustle into a full-time career. If you're ready to make some serious money on the side, check out some of these side hustle ideas for inspiration.
1.

Fiverr
: Side hustle ideas that put your talents on display
Are you talented in anything from writing to computer programming, music and audio to graphic design, or anywhere in between? Turn those talents into cash with freelance side hustle jobs through Fiverr.
Sign up as a freelancer with Fiverr and sell your talents to companies who are looking for someone just like you to meet their business goals. Offer up your skills, complete your best work, and get paid. You're able to offer as much or as little time as you want, making this a flexible yet profitable side hustle.
2.

Uber
: Use your car as an easy side hustle
Do you know your way around town (or want to get to know it better)? Make some extra cash by taking people from point A to point B safely! This can be one of the more profitable side hustles, especially if you live in a bigger city, near a college or airport, or an area with a hopping nightlife scene.
3.

Lyft
: Drive your way to extra cash
Choose when you want to drive with this easy side hustle idea. Lyft matches drivers (you) with passengers who need a safe ride from one place to another. Earning money with Lyft is as simple as making sure that happens for your passengers!
Drive as much or as little as you'd like, but especially if you live in a populated area, this is one of the easier and most flexible side hustles to make decent money with.
4.

TaskRabbit
: Get paid for helping people out around their house
Do you enjoy, or are you exceptionally good at, small household tasks such as cleaning, putting together furniture, yard work, or fixing things? Become a Tasker with TaskRabbit to earn money helping your neighbors out around their houses.
There's a wide variety of tasks people can request help with from a Tasker, so there's a pretty good chance you're able to do many of them which makes this an easy side hustle. Browse the list of services offered, then offer your skills to your neighbors and get paid for helping people right in your own backyard.
5.

Turo
: Let your car pay you with someone else in the driver's seat
Turo is a car rental marketplace that allows you to list your car for rent. Describe your car, snap a few pictures, and create a listing for your vehicle. Keep your listing's calendar up to date so potential renters know when it's available, then respond to requests as people are interested in paying you to use your car. Coordinate a pickup time and point with the driver who has rented your car, make sure they're good to go, then your work is done until it's time to meet the renter to get your car back.
If you have more than one car, or don't use your car much, this is perhaps one of the easiest side hustles to make money with. Instead of parking your car in the garage, let someone else pay you to use it.
6.

Rover
: One of the best side hustles possible for animal lovers
If you love dogs, look no farther for easy side hustles to make money. Sign up to walk dogs or pet sit for animals in your city. You're able to offer up a variety of pet services that pet parents are looking for and can create a flexible schedule for yourself, all from Rover's money making app.
7.

Postmates
: Make money by making deliveries in your community
This flexible, money making app allows you to set your own schedule and make deliveries to people in your community when you want. Go online when you're available to make deliveries and wait for an order to be assigned to you. Pick up your assigned delivery and get it there safely, all while getting paid!
8.

HandyPro
: Connecting professional cleaners and handymen to jobs
Have experience getting paid for cleaning or doing handy work? HandyPro is a way for you to continue earning for these skills by connecting you to people who are looking for services you can offer! Make your own schedule with this app and get paid for your skills.
9.

OfferUp
: Sell unwanted goods with this money making app
Do you have a bunch of things lying around your house that you no longer use or want? Do you love going to thrift stores and looking for a good deal? OfferUp allows you to turn these things into a small side hustle!
With OfferUp, you can list items for sale locally. This app helps buyers and sellers connect with people near them who have items for sale. This can be a great way to turn unwanted clutter into extra cash.
10.

InstaCart
: Turn grocery shopping into a money making side hustle
Do you enjoy grocery shopping? Turn that into a side hustle by shopping for and delivering to people who either don't enjoy the grocery store or simply don't have time to shop themselves.
InstaCart pairs customers and shoppers, and as a shopper you will be responsible for following the customer's grocery list and delivering everything safely to their door. This does require consistent access to transportation, but allows flexibility as you're able to work when you want.
11.

Amazon Flex
: Earn money delivering packages as an easy side hustle
Lucky enough to live in one of the areas where Amazon Flex is offered? Turn that into a great side hustle by delivering packages to Amazon customers on your own flexible schedule. You're able to set your own hours 7 days a week, making this a great supplemental income or one of the best side hustle jobs for college students.
While this isn't available everywhere yet, hopefully Amazon Flex's list of cities will continue growing. In the meantime, you can add your city to their waitlist and they'll let you know when you can start earning where you live!
12.

AirBNB
: Make money renting your spare room or home
Do you have a spare bedroom or is your home empty often while you travel? Maybe you have a friend or family member that would allow you to stay with them from time to time? Listing your spare bedroom or home on AirBNB is a great way to make extra money, especially if you live in a popular area for tourists.
13.

VRBO
: List your home as a vacation rental to make extra cash
VRBO connects travelers with people willing to rent out their homes to them. As a VRBO host, you're in charge of how much people pay for your home per night, who gets to stay there, and how often it's available to be rented. This can be a great way to make some extra money, especially if you know you'll be away from home for extended amount of time.
14.

Shipt
: This profitable side hustle pays you to shop for others
Make trips to the grocery store for those who either can't or don't want to and get paid for doing it. If you have reliable transportation, don't mind wandering the grocery store aisles, and enjoy helping people out, this might be a great side hustle job for you.
With Shipt, you can create your own flexible schedule and if you shop consistently, you can make decent money doing so. Many people who can't make it to the grocery store for whatever reason consider you a hero for doing this task for them, and you get paid to do it. Win, win.
15.

GigWalk
: Get paid for completing gigs in your area
GigWalk connects people who need help with a project – called a "gig" – with people in their area who are able to help them complete it – called "giggers." Becoming a gigger allows you the flexibility to apply for gigs on your own schedule, and only apply for gigs that are of interest to you.
16.

Wag
: An easy side hustle for animal lovers who enjoy being active
Sign up to be a Wag walker and get paid to walk furry friends in your area. Wag walkers need to have previous animal experience, the ability to be active outdoors with animals, and a passion for taking care of someone else's dog. This flexible side hustle is perhaps the cutest (and arguable most fun) ways to make some extra cash.
17.

HopSkipDrive
: Make extra money driving kids from place to place
Do you love kids (and they love you)? If you have experience caring for children (at least 5 years) become a CareDriver and help kids get from point A to point B safely. As family schedules get busier and busier, sometimes parents need a little extra help getting everyone where they need to be. That's where you come in as a CareDriver.
If HopSkipDrive isn't available in your city yet, keep checking – they are expanding to new areas all the time.
18.

Tispr
: Start making money with this freelancing side hustle app
Tispr offers a variety of opportunities for freelancers looking to make some extra money by completing a variety of different tasks. Whether you're great at software development or website design, enjoy event planning, or are a talented graphic designer, Tispr provides you the opportunity to be matched with people willing to pay you for your interests and skills.
19.

Thumbtack
: Get paired with customers looking for your professional services
Are you a professional…anything? Thumbtack matches professionals with customers in their area who are looking for services the pros can provide. Customers will get an estimate for different professionals who would be able to help them with their job, then they are able to visit with the professional and hire someone to help. If that's you, you're able to make some extra money helping someone out by doing what you are good at. After all, you're the professional.
20.

Foap
: Sell your photographs with this app
Do you enjoy taking beautiful pictures that you think designers, advertisers, or others might be interested in buying? Upload your photographs into Foap to create a portfolio, and Foap if your photograph is purchased you'll split the profit in half with Foap.
21.

Poshmark
: Turn unwanted items in your closet into cash
Ready to turn clothing items cluttering your closet into cash? Poshmark can help. Take photos of apparel items you want to sell, list them on Poshmark, then communicate with potential buyers. When someone buys an item you have listed, get it sent their way promptly and get paid for decluttering your closet.
22.

letgo
: Earn money for letting go of things you no longer need
letgo is an app for buying and selling locally. If you have a bunch of things lying around your house that you no longer want or need, or if you enjoy treasure hunting at garage sales and thrift shops for gems you can flip for more cash, this is a great way to turn those things into extra cash. Take a picture of what you want to get rid of, create a listing, and wait for someone in your area to let you know they want to purchase it.
23.

Decluttr
: Get instant offers on your unwanted items
Use the Decluttr app to scan in barcodes of DVDs/Blu-Rays, CDs, video games, books, and more that are cluttering your house. When you scan an item in, you will get an instant offer for the item. Pack up a box full of items, accept the offers, and ship it in for free while you get paid for your unwanted clutter.
Best Free Money Transfer Apps to Transfer Money Between Friends and Family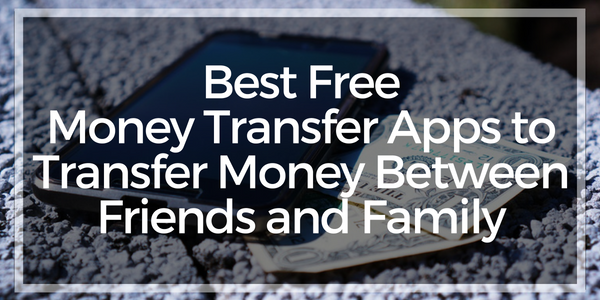 Money transfers haven't always been cheap. Fortunately, there are many free money transfer apps that have become available over the last few years.
Below you'll find some of the best apps to transfer money between friends and family.
1.

Cash App
: This free money transfer app makes it easy for friends to pay each other back
Sign up bonus: $10
Referral bonus: $5
This app to transfer money between friends is an easy way to get cash from one person's wallet to another. Enter your payment information into the app to have it ready to go when you need to pay your roommate for your portion of the electric bill or reimburse your parents for that small loan, then you're all set to send cash fast, easy, and for free. You're also able to receive cash with the app, which is as good if not better than being able to send it.
2.

Circle Money Transfer App
:
Split the bill with friends using this free money transfer app
Circle is all about making it easy for people to follow through on that age old promise that they'll pay you back. With Circle, there's no excuse to not whip out your phone and pay the person back right then and there – no waiting for weeks or having to have that awkward conversation when a roommate has seemed to forget they owe you for part of last month's cable bill. This app to transfer money between friends is quick, easy, and free, and you're even able to transfer money between currencies with no exchange fee.
3.

Venmo
: Send and receive money with this app to transfer money between friends
Connect your bank account or debit card to Venmo to transfer money to your friends or family members for free. You can even pay on an increasing number of websites using your Venmo account. It's easy to move money from your Venmo account to your bank account, or keep a balance in your Venmo account to use it to pay someone later.
This app that transfers money is a PayPal service and is a secure, easy way to send and receive money.
4.

Apple Pay
: Send money between friends for free on Apple devices
Apple device users, Apple Pay is an easy, free way to send and receive money between friends and family. You technically use the Wallet app on your phone, but setting up Apple Pay allows you to send money via iMessage. It's a quick and easy way to pay a fellow Apple device user on the spot.
5.

Google Pay Send App
: This free money transfer app makes it easy to send and receive money
Use the Google Pay Send app to send and receive money over your smartphone. You're also able to send payment requests to people, which comes in handy for that friend or sibling who always seems to "forget" that they owe you money.
6.

PayPal
: A long-trusted way to send and receive money
PayPal is one of the oldest ways to send and receive money virtually. The good news is, they're still a great way to do so. The PayPal app is a convenient, trusted way to use a digital wallet to pay friends and family back, receive payments, and make purchases both online and in some stores.
7.

Facebook Messenger
: Send and receive money within a conversation
Facebook Messenger is more commonly thought of as a communication app, but with their payment feature why not combine a conversation about paying someone back with the ability to do it right then and there? Send money to Facebook Messenger contacts for free using a linked card or PayPal account in the midst of a conversation – it can't get much easier than that.
8.

Zelle
: Use this app to transfer money between friends
Zelle partners with some banks to allow you to transfer using Zelle within your regular mobile banking app. If your financial institution doesn't offer Zelle, you are still able to download the Zelle app! Enter the email address or phone number of the individual you want to send money to and the amount, then your payment is off to them and you're settled up!
Save Money by Using Mobile Banking Apps with No Monthly Fees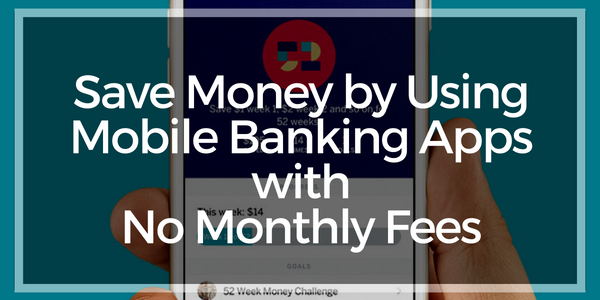 Banks with no monthly fees aren't always easy to come by – unless you look at these mobile banks. If you're ready to eliminate monthly fees, lower borrowing rates, and save money all around, check out these banking apps that offer no fee bank accounts.
1.

Simple Bank
: Change the way you bank by opening no fee bank accounts
Sign up bonus: $20
Referral bonus: $20
In a world where banks with no monthly fee are hard to find, Simple Bank is revolutionizing banking. Open a free account and get access to free ATMs, a free debit card, and a variety of other free resources designed to help you manage your money well, all with no monthly fees.
Simple Bank makes it easy to set savings goals as well as track your daily spending. You get access to budgeting resources that are designed to help you spend your money well and know where every dollar is going. As far as mobile banking applications go, this one offers a lot of great features for free.
2.

Chime Bank
: Manage your money easily with this mobile banking app
Chime makes it easy to manage your money through their mobile banking application with no hidden fees. They offer unique services such as the potential to get your direct deposited paycheck earlier than your coworkers and help you save money with automatic savings features.
Chime knows the banking industry is evolving and has created a bank app that meets current needs by offering no fee bank accounts and useful features.
3.

Varo Money Bank
: Mobile banks make big banks unnecessary
Open no fee bank accounts with Varo's banking app and find out why big banks are no longer necessary. Meet all your financial needs through Varo's mobile banking applications without spending money on added fees. Varo offers personal loans, savings accounts with high interest rates, and a variety of free services for your checking account all at no added cost to you.
4.

Qapital Savings Account
: Reach your savings goals with this mobile banking application
Sign up bonus: $5
Referral bonus: $5
Qapital is a free banking app that makes it easy for you to make savings goals and actually follow through on reaching them. Qapital offers more traditional checking accounts as well as savings accounts that are specific to your savings goals.
Open no fee bank accounts with Qapital and you can set it up to have the change rounded up to the next dollar and put into savings every time you swipe your Qapital debit card. You can also set other savings "rules" such as sending a certain amount to your savings goal account every Tuesday, or budgeting a certain amount for gas each week and the difference goes straight to savings if you are under budget, and many more creative ideas to help you save money with ease in your day to day life.
Use Robo Advisors and Investing Apps to Make Money and Grow Your Wealth
Some of the best apps for investing provide friendly user interfaces, low (or no) fees, and plenty of features. These apps were built for millenials who expect excellence and honesty from the brands that they interact with. Check out the awesome apps below that can help you make money and build wealth.
Sign up bonus: Free share of stock
Referral bonus: Free share of stock
Robinhood is one of the best apps for investing as an amateur and gives new investors the ability to buy single shares of stock without paying fees. If you're interested in dabbling in the stock market but aren't ready to make a significant, risky investment yet, Robinhood is a great place to start. You're able to keep an eye on market data with up to date information and can trade up to 5,000 different stocks via the Robinhood app.
2.

Stockpile stock trading app
: Invest whatever amount you want with fractional shares and learn as you go with this investing app
Sign up bonus: $5 of any stock
Stockpile is free to sign up, then charges just 99 cents per trade. You're able to buy fractional shares of over 1,000 different stocks instead of having to purchase the entire share.
Stockpile is an excellent learning tool as they provide mini-lessons that help you understand investing. Get your kids involved with custodial accounts that welcome young investors to get started in the stock market early.
M1 uses an innovative approach known as the "pie" which allows investors to create a unique portfolio where you choose your investments and how big of a slice that investment is in your "pie." You're able to watch some slices grow as they perform better than expected, and some shrink as they underperform. The money you invest will keep moving through the pie to keep your slices of the pie "sliced" as big or as small as you want them to be.
This no-fee robo advisor helps you make sure you're investing your money where you want to see it go.
Sign up bonus: $10 of Bitcoin
Referral bonus: $10 of Bitcoin
Use this mobile app to buy and sell digital currency while making it easy for you to monitor your cryptocurrency portfolio. You can buy and sell Bitcoin, Bitcoin Cash, Ethereum, and Litecoin and manage your portfolio all in one place.
Sign up bonus: $5
Referral bonus: $5
Spare change doesn't seem like much, but imagine if your nickels and dimes could turn into a larger investment? With Acorns, they can! This is one of the best apps for investing because it allows you to round up your daily purchases to the next dollar and invest the difference.
There is a small fee for Acorns – $1 a month – but Acorns works hard to make it easy to invest, and they make sure your money is invested wisely. Portfolio options range from conservative to aggressive, allowing you to chose how much risk you're willing to take with your investments.
Sign up bonus: $5
Referral bonus: $5
Stash makes it easy to start investing with as little as $5. You're able to invest in fractional shares with other Stash users instead of having to purchase an entire share to add it to your portfolio. Stash asks you how risky you want to be with your investments, helps you choose wise investments based on your goals and beliefs, and you're all set to get started investing with plans of your own to add to your investment over time.
Stash does charge a small fee of $1 a month, after a free first month.
7.

WiseBanyan
: Start putting money away sooner with this investment app
This app is designed to help people minimize the fees involved with investing money in hopes it will help people start investing earlier in their lives. They pride themselves on being a free financial advisor by way of investment app, and you can start investing with as little as $1.
8.

Clink
: Simplify investing with this easy app
Clink is all about making saving and investing money simply. Open an account with Clink, schedule funds to transfer from your bank account at an amount and frequency you're comfortable with, then allow Clink to take it from there, investing your savings into a portfolio of Exchange-Traded Funds.
9.

Wealthsimple
: This investment app helps you diversify your funds
Wealthsimple will help you invest your money with ease and confidence, providing a socially-responsible portfolio. Your money is invested in a diverse variety of Exchange-Traded Funds based on your personal financial goals.
Wealthsimple charges a 0.5% management fee for invested amounts under $100K.
Get Paid to Play Games Online With These Apps
If you've always dreamed of being able to get paid to play video games, you may be in luck. There are several apps were you can get paid real money to play games!
Although you probably won't make a fortune from these apps, if you like playing games anyway, you may as well make money from it!
1.

HQ Trivia

: Download for

Apple
or
Android
and earn cash prizes
HQ – Live Trivia Game Show is an app that will reward you for what you know with cash prizes. Players can get paid to play games online by logging in to the trivia game show at a specific time and play against other users in real time to win real cash.
Not everyone wins money every time you play, but if you know a lot of trivial facts, this is a fun way to potentially see that knowledge pay off – literally.
2.

Long Game
: Prize-Linked Savings allows you to save more by playing games
Sign up bonus: 1,000 coins
Referral bonus: 1,000 coins
Who says saving money isn't as fun as spending it? With Long Game, the more you save the more you are rewarded with "coins" used as entries to play games with real cash prizes or enter a "lottery" with the chance of winning up to $1 million.
Long Game partners with actual banks so the money you are saving is safe and secure, and you even earn standard interest on top of the prizes you receive for saving!
3.

Lucktastic
: Earn tokens for playing games, redeem them for prizes
Lucktastic's app allows you to play real games for real rewards. You'll earn tokens as you play games, and those tokens can then be redeemed for a variety of gift cards. Lucktastic also has scratch-off style tickets and you never know what the reward might be on those. This fun app is an easy way to make a little extra money and kill some time doing it.
4.

WinWin
: The more you save, the more you can play with this app
WinWin is an app that you use to save money. Set up automatic transfers to your WinWin savings account and you'll be able to play a daily game with a chance of winning more cash. You'll also receive one entry for every dollar you save into a $1,000 entry. The more you save, the more chances you have to win more money. A win-win for sure!
Save Money with Free Money Tracking and Money Management Apps
If you want to grow your wealth, than you need to keep track of it. Fortunately there are many money tracking apps that are free and easy to use. Below are some of the best money management apps and free credit score apps to ensure that your finances are taking you in the right direction.
1.

Personal Capital
: Keep yourself on track for retirement, all in one place
This money tracking app helps you plan for retirement realistically and for free. Determine your retirement goals, then see what you need to do to stay on track to reach them. You can add large expenses, unexpected income, and evaluate your current spending and see how these factors all affect your retirement goals.
2.

Trim App
: Get money you deserve back in your pocket
Trim is an automated savings app that finds ways to cut your spending and save you money. Trim does this by suggesting subscriptions to cancel that your family is paying for but doesn't use, negotiates some of your monthly bills with service providers to make sure you're being charged the best rate, and simply helps you manage and keep track of where your money is going.
3.

Credit Sesame
: Keep an eye on your credit score for free
Credit Sesame is a free credit score app that allows you to view your credit score for free and gives you advice on what steps you should take next to build a credit strategy. You're also able to get suggestions for lower credit card or loan interest rates to consider.
4.

Debitize
: Get the benefits of credit card use without the risk of debt
Sign up bonus: $10
Referral bonus: $10
Debitize is a money management app that allows you to use your credit card like a debit card. Using a credit card is a great way to improve your credit score, but the temptation to go into debt can actually lead to some people harming their scores instead.
With Debitize, money is transferred from your checking account to a separate account used to pay your monthly credit card bill as you swipe your credit card. This prevents you from spending more with your credit card than you're able to pay back, making it less likely that you'll get in over your head and increasing the likelihood that credit card usage will be a positive influence on your credit score.
5.

Mint
: Gain control of your finances with one of the best money management apps
Mint helps you track your spending, create and follow a budget, and helps you stay on top of your bills. Unique tools are customized to help you manage your own money, all for free! You're also able to keep an eye on your free credit score with Mint.
Mint brings your whole financial picture to one place and helps you know for sure where you stand financially while also helping you figure out the best plan for improvement. This free money tracking app is a great resource for knowing where every dollar goes as well as where it should be going.
6.

Digit
: This money tracking app helps you save comfortably
Digit examines your income and spending, determines what amount you can comfortably afford to save, and automatically does the work of saving it for you. By giving Digit access to your checking account, they are able to look for amounts that you can afford to save and help you out by moving it to your Digit savings account without you having to do a thing.
Digit is free for the first 100 days, but is $2.99 per month after.
7.

NerdWallet
: Use this app to manage your financial goals
This app will help you keep an eye on your credit score and give you personalized advice on how to improve your score, help you track and compare your spending to income, look for ways to save money within your spending, and set personal finance goals. NerdWallet is designed to be personal, so the app will give you advice that should actually help.
8.

Dollarbird
: Know where every penny goes with this money tracking app
Dollarbird is an app that helps you track every single financial transaction you make. You're asked to start out by entering all money you have – bank accounts, cash in your wallet, spare change on your dresser – add your income sources, and enter recurring expenses. Then, get in the habit of adding all other financial transactions you make so you know exactly where you stand financially.
9.

Fudget
: This free budgeting app makes it simple to keep track of your finances
Fudget isn't designed to be flashy or fancy. In fact, their goal is kind of the opposite: simple and quick. Keep it simple by adding all money you have coming in and going out and use that list to make recurring budgets and know exactly how much money you have at any given point.
10.

Wally
: Understand where your money goes with this free personal finance app
Wally's free money tracking app is all about details. Where, when, and why do you spend your money? By having an understanding of where your money goes, you are able to find ways to make changes. Setting personal financial goals is easier when you are able to track your money. Wally makes it easy to do all this – for free!
11.

Goodbudget
: Plan where your money will go instead of just tracking it with this free money management app
Goodbudget takes the concepts of an envelope-based budget system and makes it virtual. The Goodbudget app helps you sort your money into categories when you get paid based on your budget. Goodbudget's model of planning how much money you can spend in each category ahead of time allows you to clearly see weak points in your budget and truly helps you stay on track with your financial goals.
12.

Credit Karma
: Use this free credit score app to keep an eye on the big picture
Credit Karma's app will let you have access to your credit score and develop a credit profile for free. They will offer suggestions of ways to improve your credit score, and even suggest options if they think you can get a better rate on a loan or would qualify for a credit card that would be more beneficial for you. They will also let you know if a major change is reported on your credit, which can be extremely helpful in cases of identity theft or fraud.
13.

MoneyLion
: This free money management app will give you daily financial guidance
If you're wanting to get better control of your finances but need a little help, consider downloading the MoneyLion app. MoneyLion's free personal finance app will give you financial guidance as you go. They believe you'll find it easier to save money and improve your credit by using their app, which is a hard deal to pass up when the app is free.
14.

Splitwise
: Use this free money tracking app to keep a running total of who owes you money
Splitwise is a great resource for roommates who would rather keep track of all split expenses and make one larger payment instead of several smaller transfers to cover each bill. Splitwise lets you keep track of who has paid what and keeps a running total of who owes what amount to which person. This running total can then be settled up whenever you want. You can then use your favorite money transfer app to actually settle up.
15.

Finances
: This money tracking app tracks your cash flow
Use the Finances app to see how much money you're making and where exactly it's going. Monitoring your cash flow with an app like Finances lets you look for areas to cut back spending in, or areas to fluctuate your budget to give you more spending in. Use the Finances app to gain a better understanding of how you spend your money.
16.

CreditWise
: This free credit score app helps you understand where you're at
Credit can be difficult to understand, especially as a young adult. CreditWise is a great resource for monitoring your credit score (for free) and understanding what exactly it means. This app provides a resource that shows you what impact financial decisions might have long term, all while also providing you the chance to keep an eye on your credit for anything fraudulent.
In Conclusion
There are many awesome apps to help you make money in your free time, from home, or while in school. While some of these won't earn you much, a few of them may be able to provide a nice little income on the side.
Interested in other ways to make money? Check out our giveaway page and side hustle page for more great places to earn extra money in your free time.
Here's to a richer you!