Note: MySurvey appears to be shut down. We do not recommend attempting to use this tool. If they come back up again, and appear legitimate, we'll update this post. 
Today I'm going to show you how to make money online with My Survey. It's a great way to quickly start earning extra cash. Like most work from home models, how much you earn will depend on how much time you invest in the tasks.
You may be wondering why they would pay you to sit in you pajamas and take surveys. Fair questions.
These surveys provide companies with valuable consumer feedback. In fact, the feedback is so valuable to these companies that they're willing to pay for it! You might as well be one of the people collecting the cash.  Signing up is easy, just click here to get started:
About My Survey
My Survey is a reputable survey company. They were an innovator in the online survey category and have hundreds of thousands of followers on social media. Their reputation is widely acknowledged by these followers.
Here's a quick overview of how My Survey works.
You take surveys that take about 15 to 20 minutes each. In return, you earn "points" for completing surveys. You use those points earned to convert into your payout. (I'll give you more details on the points shortly.)
There are also polls that you can take to be entered in sweepstakes. The poll that I took was literally one question. There's no purchase needed. I was automatically entered to win just by answering one question. The current sweepstake for cash prizes ranging from $10 to $500.
In addition, after your second survey, you can invite friends to join. You're awarded 150 points when they sign up and take their first survey.
My Experience Testing My Survey
In full disclosure, I had never signed up for a survey site. I'm a web content writer. I was asked to write an honest review of this site, signed up, and completed my first survey in under 15 minutes. I found it a little bit addictive to see points so quickly. It felt a little bit like playing a game and watching my score go up.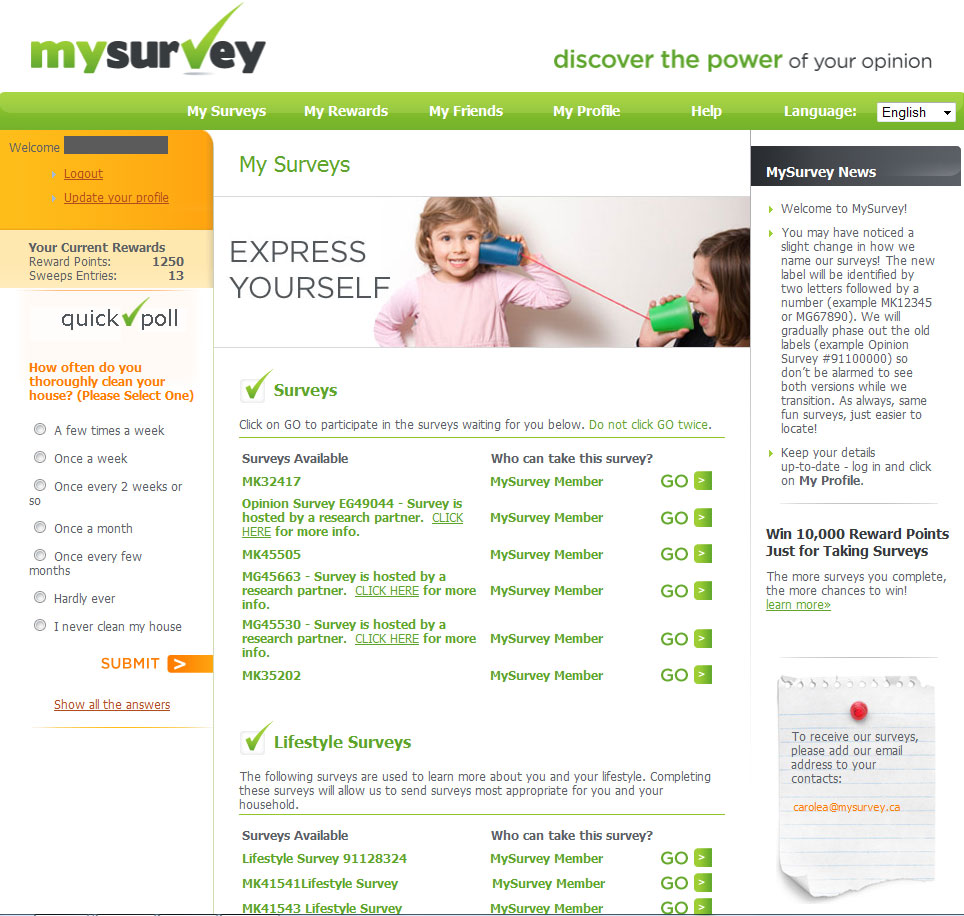 Overall, I found My Survey easy to use. It's very user-friendly. I was able to sign up quickly, find information on the points system, and start taking surveys. Here are the top three things I liked about this site:
Easy Sign Up:

This site makes it easy to sign up and start taking surveys. I chose to connect it to my Facebook account. They drew most of my sign-up information from my Facebook so I only had to respond to their verification email and I was ready to roll!

The User-Friendly Dashboard:

After I signed up, I logged in and landed on the homepage of the dashboard. From here I was able to scan the list of available surveys and take any that interested me. The menus were very easy to locate and navigate – making it easy to find information on the company, points, and how to refer friends to the site.

Awesome Reward Options:

In addition to receiving cash payouts through PayPal, My Survey also makes it easy to cash out with gift cards from great retailers like Amazon, CVS, and Macy's.
How To Earn Money on My Survey
On My Survey you earn points by taking surveys and referring friends. These points display on your homepage, usually within a few minutes of completing the survey.
Points can be cashed out through PayPal (which charges a small fee) or converted into retail gift cards, which allows you to shop without guilt (and avoid the extra fees)!
Here are three of the current payouts:
$10 Amazon gift card – 1100 points
$20 PayPal deposit      – 2400 points
$25 CVS e-certificate – 2700 points
Other retail partners include Macy's, MLB.com, and movietickets.com. All of these are great, reputable retailers where you probably already spend money!
Conclusion:
Taking surveys online with My Survey is quick, easy, and fun! In just minutes, you can be signed up and on your way to making money! It's a great way to earn some extra cash that allows you to work flexibly, at your own pace, and on your own schedule.
If you've tried My Survey, or any other great survey sites, we'd love to hear about your experience. Please share your feedback with us in the comments.
Written by: Deborah Tayloe