Robinhood is a no fee stock trading platform. The Robinhood app makes it easy to buy and sell individual stocks without paying commissions or trading fees – which often cost $5-10 per trade on other platforms.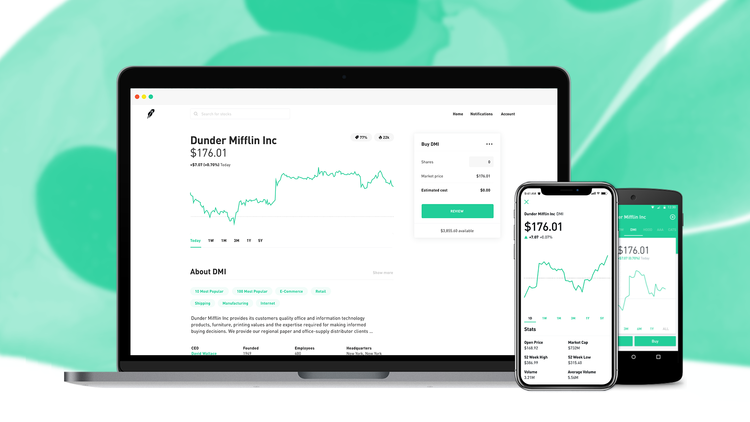 Robinhood Review and Free Stock Signup Bonus
Robinhood is an award winning app that makes it easy for anyone to buy and sell stocks (and soon, cryptocurrencies) without paying traditional broker fees.
Additionally, when you join Robinhood through a link like this one, you'll receive a free share of stock just for creating your account. This stock could be anything from Groupon to Facebook (worth from $3-200). Most free stocks are worth about $5, but you might get lucky and end up with one worth closer to $200.
Robinhood Pros
If you're looking for a place to buy and sell individual stocks, Robinhood may be the right app for you. Some of the benefits of the Robinhood app include:
No trading fees:

Buy and sell at any time and pay $0. This saves investors $5-10 per trade compared to traditional stock brokerages.

Buy individual stocks:

While many platforms require a minimum of 100 shares per trade, Robinhood allows investors to buy a single (1) share.

The app is intuitive and easy to use:

Robinhood has won awards for how easy the app is to use. While many stock trading apps are intimidating for new users, Robinhood can be learned quickly.
Buy cryptocurrencies (no trading fees):

Robinhood now allows the trading of Bitcoin and Etherium (there is a waitlist). More currencies may be added in the future. This can save the 1.5% fee charged by

the leading cryptocurrency trading platform, Coinbase

.

Robinhood Gold (membership):

Robinhood Gold is a membership service (with a fee) that allows investors to trade longer hours and borrow 2x to invest with no additional fees or interest.

Robinhood is backed by investors like Google:

Google Ventures is one of several investors behind Robinhood. This suggests that smart people believe in the app, and are working to make it one of the best stock trading tools available.
Robinhood Cons
As with any tool, there are cons to the Robinhood app. Some of these include:
No options trading (yet):

Although this is being developed and slowly rolled out, right now you can't buy/sell options on Robinhood.

Can't buy fractional shares:

Most traditional stock trading platforms require the purchase of whole shares (or even 100 shares). However, some platforms like

Stockpile

and

M1Finance

allow the purchase of fractional shares – allowing investors to afford stocks like Amazon that cost over $1,000 per share.

Limited cryptocurrencies available:

For cryptocurrency trading, there are other platforms that provide access to more currencies (

like Coinbase

).
As you can see, these drawbacks are minimal. Especially for beginning investors, Robinhood is a great way to start trading stocks.
Robinhood Referral Program: Get a Free Share of Stock for Referring Friends
When you refer a friend to Robinhood, you both receive a free share of stock worth somewhere between $3 and $200. The only requirement is that they create an account and connect their bank account – but no deposit is required.
Although this won't impact most people, Robinhood does have a refer a friend bonus limit of $500. So once you've made close to $500 from referrals, you will stop receiving these referral bonuses.
Robinhood Alternatives
Robinhood's no-fee trading and elegant design make it an excellent trading platform. However, there are a few alternatives that are worth mentioning:
M1Finance:

Like Robinhood, M1Finance is a no-fee trading platform. As a robo-advisor, M1Finance has created "pies", allowing investors to diversify their investment across dozens stocks. M1Finance is an excellent set-and-forget investment platform.

Stockpile:

Stockpile allows investors to invest dollar amounts rather than buy specific shares. This means that you can purchase $5 of Amazon, a stock that trades well over $1,000. Their affordable $1 trading fees and custodial accounts (allowing kids to trade with parental permission) make Stockpile another appealing tool for beginning investors.

Coinbase:

Coinbase is the leading cryptocurrency trading platform. And although Coinbase charges 1.49% trading fees (compared to Robinhood's $0), they provide access to more currencies and have no waitlist. Meaning you can start buying and selling immediately. They also offer

a $10 Bitcoin bonus

after you buy $100 of Bitcoin.
If you're ready to get started with Robinhood, sign up now to receive your free share of stock.
Conclusion
Robinhood has become a leading stock trading platform. Millennials and Generation Z expect quality, elegant design, and simplicity when it comes to technology – and Robinhood delivers.
The app's ease-of-use makes it a great tool for anyone getting started in the stock market. And, as Robinhood continues to expand it's functionality, it will likely become a leading platform across all investor skill levels.
If you're looking for an easy way to buy and sell stocks on your phone, start investing with Robinhood.
Have you used Robinhood? Do you have another stock trading platform that you prefer? We'd love to hear your thoughts in the comments!