Webull is a new commission-free stock trading app that makes it easy (and affordable) to buy and sell stocks online. The app offers many great features to introduce beginners to the world of investing, while providing detailed analysis tools to meet the needs of skilled investors.
Beginners and pros alike have fun with the weekly "paper trading" competitions, where you can invest virtual money to compete for real prizes.
Additionally, the community forums available in the app provide a valuable platform where investors can discuss the broader market as a whole, or talk specific stocks. In the same way you can discuss a YouTube video in the comments below it, Webull allows you to read and join discussions on the details page of each stock before making your investment decisions.
A relatively new app with a visionary and ambitious team, I can see Webull becoming a leading trading platform over the next few years.
Sign up for Webull today, and invest $100 within 30 days, to receive a free share of stock worth $8 to $1,000.
The App: Investing with Webull
Getting started with Webull is easy.
First, sign up for an account and install the app.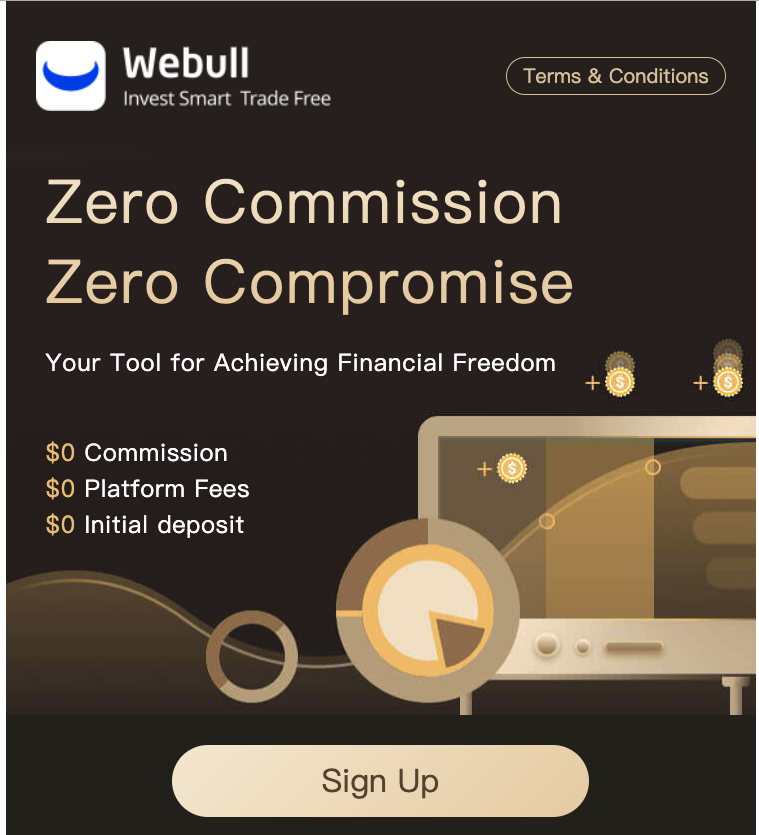 Then, following the prompts to verify your account and connect your bank.
Once your account is verified (several business days), you'll be able to start trading!
Then, deposit $100 into your account to receive a free share of stock worth $8-$1,000!
Yes, it's that simple.
Plus, while you're waiting for your verification, you can start paper trading with fake money for the chance to win real prizes!
Sign up and invest $100 to receive your free share of stock.
For an overview of the latest features provided in the app, watch this video by the founder. Otherwise, keep reading to learn more about the investment platforms benefits, drawbacks, competitors, and sign up bonus!
Webull Pros & Benefits
After exploring the app, you'll discover that there are several great benefits to Webull, especially when compared to the competition. The pros of Webull include:
No commission stock trading: You can buy and sell stocks and ETFs without paying the $5-10 per-trade commission of traditional brokers, or the $1-5 per-month fee charged by many robo-advisors.
A community to learn and connect: One of my favorite aspects of Webull is the community forums/chat integrated into the app. Discover what other investors are doing, ask questions, and share your own advice to establish yourself as a pro.
Paper trading (for real prizes): Webull "paper trading" allows you to use fake money to enter investing competitions. For the specified period of time, invest your fake money to see if you can earn higher returns than other members of the Webull community – and win real prizes in the process.
Technical analysis tools: Intermediate and advanced traders will appreciate the detailed analysis tools Webull offers. The level of analysis provided by Webull sets it apart from many of its simpler competitors like Robinhood, Acorns, and M1 Finance.
FREE extended trading hours from 4:00 am to 8:00 pm EST: This is huge! Many stock trading platforms only allow you to buy and sell stocks during regular market hours. The few that do offer extended hours, from what I've seen, all charge an additional fee for the ability to trade during these times. In my opinion, this is one of the biggest benefits of investing with Webull.
Allows the purchase of individual shares: Traditional investment companies have historically required investors to buy and sell a minimum of 100 shares. Although this requirement isn't as common as it used to be, it's still worth mentioning that Webull allows you to be an individual share of stock. And, because you aren't paying a trading fee, buying individual stocks can actually still provide a decent return on investment.
Allows (some) penny stock trading: Again, many beginner-friendly investment platforms limit access to penny stocks worth a few cents (or even less than a penny) per share. This is because these stocks often have higher levels of risk (along with higher potential for reward). Webull allows investors to buy some of these low-cost stocks, once more setting them apart from other stock trading apps.
Great customer support: Other investing apps can be very difficult to get in touch with. Webull provides support via email, live chat, and even phone. Because an issue with your user account can cost you substantially if you aren't able to buy or sell shares when you want, having quick access to customer service makes me feel like my investments are more secure – as I can quickly contact someone if I forget my password or have an issue with the account.
Excellent sign up bonus: I've discovered 8 ways to earn free stock, but Webull provides the opportunity to earn the highest with it's $8-$1,000 share of free stock.
Webull Cons & Drawbacks
Despite its benefits, there are still a few drawbacks to Webull. Some of these their team has already told me they are working to address, while some of the others may be reviewed further in the future. The cons of Webull include.
No fractional shares trading: Although this is rare, there are some investment platforms (such as M1 Finance), that allow you to buy fractional shares. Therefore, if you only have $100 to invest, and you want to buy a stock worth $1,000, you can buy a 0.10 share of the stock. For the time being, Webull doesn't offer this functionaliy.
No options trading (but coming soon): For more advanced traders, options are a great way to leverage your investments to earn more money. While most traditional stock trading platforms provide options trading, it's less common with robo-advisors and other no-fee trading platforms (Robinhood just started offering options). Currently Webull does not provide options trading, but they've told me that there team plans to launch this feature soon.
The app is a little complex: Because Webull offers more features than many of the other trading apps and robo-advisors (such as paper trading, technical analysis, and a community forum), it can take a bit longer to learn how to use the app. However, if you're interested in being a frequent trader, the additional functionality makes the few extra minutes learning the app worthwhile.
Webull Competitors
While there are many stock brokerages and robo-advisors available on the market today, I believe that there is a much smaller segment worth comparing to Webull.
Because Webull offers no-fee trading and allows members to buy individual stocks, I believe the only two competitors worth mentioning are Robinhood and M1 Finance. Here is a little about each of these platforms and how Webull measures up:
Robinhood: Robinhood has quickly become the investing app for millennials, with its award-winning design and no fee trading app. For someone wanting a very basic and easy way to invest in individual stocks, I would recommend Robinhood over Webull. However, for anyone interested in learning how to become a serious investor, I believe the paper trading and technical analysis tools provided by Webull make it a better choice. Read our Robinhood review here.
M1 Finance: M1 Finance is another fee-free investment platform merges typical robo-advisor functions with the ability to invest in individual stocks. Based on the way the app is built, I recommend M1 Finance over Webull for investors interested in a set-and-forget strategy for their investing (such as investing for your retirement accounts), while suggesting Webull is a better platform if you're interested in being an active investor. 
Personally, I'm having a lot of fun playing around with Webull while improving my own investing knowledge. I don't put my retirement savings in here, but it's a great place for funds I'm interested in using for day trading.
Webull Sign Up Bonus
Currently, Webull offers a sign up bonus for new users. If you sign up for Webull through an appropriate link, like the one below, you'll receive a share of stock worth anywhere from $8 to $1,000 after making an initial deposit of $100 or more within 30 days.
Sign up and invest $100 to receive your free share of stock.
Webull Referral Program
Webull offers a referral program to encourage you to spread the word. From your account, you can invite your friends and family members. If they sign up for an account and invest at least $100 within 30 days, you and your friend both receive a free share of stock worth $8 – $1,000.
Not only is referring friends financially rewarding, but you are now able to compete with your friends in the paper trading competitions and chat with your friends on the forums. Webull is better with friends.
Join me on Webull by following "Rob – A Richer You" after you sign up.
Conclusion
Webull is a quality stock broker worth trying out. The advanced functionality, fee-free trading, gamification, and community provided by the app are all features that set it apart from the competition. There truly isn't another investment platform like Webull.
If you're at all interested, I recommend giving it a try while you can receive your free share of stock. Worst case scenario, you have an extra share of stock. However, I imagine once you start playing with the app, you'll find it as addicting as I do.
Join Webull and claim your free share of stock today.
Once you've given the app a try, come back and leave a comment – I'd love to hear what you think of Webull and how it compares to other tools you've used.