Hailed by CNBC as "the new millennial investing strategy", Acorns is an investment app that enables users to invest any extra change from daily purchases into a portfolio. It's great for  university students and beginner investors who want to get involved in the stock market but may not have large sums of money on hand. It's recently garnered interest online for its ease-of-use, simple layout and accessibility (you can gain instant, 24/7 access to the app via your iOS or Android).
Here's a $5 sign up bonus if you're interested in trying Acorns out.
Acorns Review
To sign up, you will need to have your debit or credit card on hand. You will need to connect your card to your Acorns account. Once you've started your account, Acorns will begin rounding all of your credit/debit card transactions to the nearest dollar. Acorns will then invest your spare change into a portfolio that is diverse and automatically managed.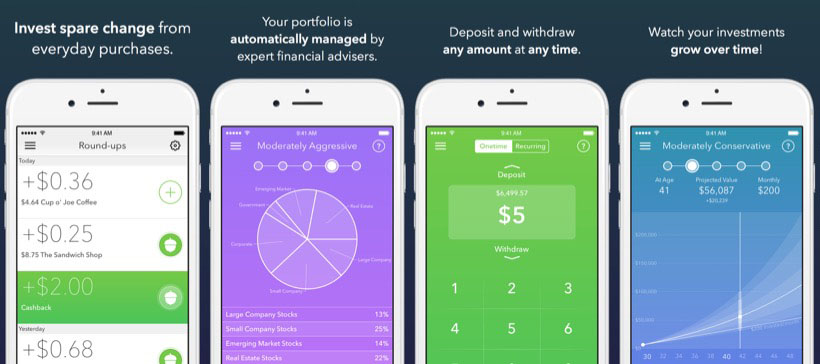 If you want to focus more effort into your portfolio, you can automate monthly, recurring deposits. You can start investing as soon as your spare change reaches $5 and withdraw any amount of your personal money at any point in time without the worry of penalty fees.
The Pros
Acorns is a fantastic option for college students and young people who have never invested money in the stock market before.
There are other pros to starting with Acorns:
Mobile-friendly

Easy and simple to use

Portfolio customization

Minimal investment required (the app can automatically invest as little as $0.25)

Low account fees ($1 per account for accounts with balances under $5,000 and .25% per year for accounts with balances over $5,000)

No management fees for .edu accounts or anyone under 24 years old

No fees for accounts with a $0 balance
The Cons
While it's great to know the positive aspects of apps such as Acorns, we also realize that it might not be a perfect fit for everyone. Although Acorns is beloved by many, there are several things a user should take into consideration before starting:
Only available as iOS or Android app

The more transactions you have, the more you spend in investment and the account transaction fee goes up (for example, an investment of $25 per month will lead to paying approximately 4% to Acorns, as opposed to other services that average around 1-2%)

Possibly not feasible if you are investing a couple of dollars each month

Not the best fit for individuals who don't keep track of their daily purchases

Only available to United States residents (although global expansion is not far off)
Referral Program
Acorns currently boasts a referral program that gifts users who refer friends with money. To get started and receive your referral code, you need to create an Acorns account. Your friends will receive a $5 sign up bonus if they sign up using your referral code (don't let them forget that step!). You will also receive a $5 bonus for each friend you refer, not a bad way to make some easy side cash!
Your bonuses will not be sent until your referral signs up (the sign up needs to be complete to count) and verifies their account.
Normally, the max amount of referrals you can send to Acorns each year is 20. Users who reach 20 referrals won't be able to participate in the $5 bonus program again until the next year. Additionally, Acorns can restrict or cancel their referral program offer at any point.
Acorns is currently offering a $600 bonus if you refer 12 friends to Acorn during December 2017. If you have any referrals, they need to sign up and make their first investment before 12/31/2017 (the referral bonus will be paid by 1/15/2018).
What's more, for every referral you send their way, they will plant one oak tree!
Conclusion
Acorns is a perfect app for college students and newbie investors who want to dip their toes in without taking big risks. It's relatively simple and easy to use and it's as close as the click of a button (or touch screen). If you plan to utilize the app, remember to pay close attention to your transactions.
If Acorns doesn't seem like a fit for you, no worries! Check out some of these other great robo advisor investing tools.