Acorns is an app that enables users to invest spare change. It's great for university students and new investors who want to get involved in the stock market, but may not have large sums of money on hand. It's easy to use, affordable, and provides opportunities to earn extra cash with special offers. 
Here's a $5 sign up bonus to try out Acorns!
Acorns Review: How to Invest
There are two ways to schedule deposits into your Acorns account. The first is to connect a debit or credit card and have Acorns "round up" your purchases. Acorns will round all of your card transactions to the nearest dollar and invest the difference.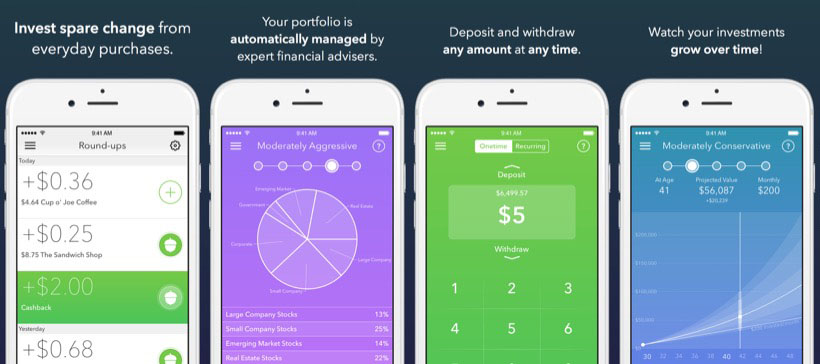 The second option is more traditional — by scheduling recurring investments. You can schedule monthly, recurring deposits of as little as $5. 
As soon as your account has at least $5, you can start investing in a variety of easy-to-understand funds.
The Pros
Acorns makes it easy to start investing. Avoid the confusing jargon or sales pitches of other "financial advisers". With Acorns, you get to choose who how you invest, with their advice, for one low price ($1/month). 
The benefits of using Acorns include:
Offers a "set and forget" investment strategy, allowing you to invest without putting in any effort
Easy and simple to use mobile app
Minimal investment required (the app can automatically invest as little as $0.25)
Low account fees ($1 per month for accounts with balances under $5,000 and .25% per year for accounts with balances over $5,000)
No management fees for .edu accounts or anyone under 24 years old
No fees for accounts with a $0 balance
As you can see, because there are no fees for anyone under 24 or in college, Acorns is an awesome app for young investors just getting started.
The Cons
Acorns may not be very everyone. Some of the drawbacks to Acorns include:
Only available as iOS or Android app — no desktop access
The $1/month fee can be expensive for low-value accounts (for example, an account with $25 will pay approximately 4% a month to Acorns)
Limited investing options that may not be suitable for advanced stock traders
Only available to United States residents
These cons may mean that there is a better alternative to Acorns for your situation.
Acorns Alternatives
There are a variety of investing alternatives to Acorns. Some of the most common include:
Stash Investing: Almost identical to Acorns (and also provides a $5 sign up bonus and $5 referral bonus)
Robinhood App: A no-fee investing app that allows you to buy individual stocks (start investing to receive a free share of stock)
M1 Finance: For accounts over $100, M1 Finance is our favorite option. They charge zero fees and offer a wide-range of investments that are easy to understand and easy to trade.
Acorns Sign Up Bonus
When you sign up for a new Acorns account and make your first deposit of at least $5, a $5 sign up bonus is added to your account. You have full access to these funds after keeping your account open for at least a month.
Acorns Referral Program
Acorns has a referral program that gifts users who refer friends with money. To get started and receive your referral code, you need to create an Acorns account. Your friends will receive a $5 sign up bonus if they sign up using your referral code (don't let them forget that step!). You will also receive a $5 bonus for each friend you refer, not a bad way to make some easy side cash!
Your bonuses will not be sent until your referral signs up (the sign up needs to be complete to count) and verifies their account.
Normally, the max amount of referrals you can send to Acorns each year is 20. Users who reach 20 referrals won't be able to participate in the $5 bonus program again until the next year. Additionally, Acorns can restrict or cancel their referral program offer at any point.
What's more, for every referral you send their way, they will plant one oak tree!
Conclusion
Acorns is a perfect app for college students and newbie investors who want to dip their toes in without taking big risks. It's relatively simple and easy to use and it's as close as the click of a button (or touch screen). If you plan to utilize the app, remember to pay close attention to your transactions.
If Acorns doesn't seem like a fit for you, no worries! Check out some of these other great robo advisor investing tools.